Prepare for Azure certification exams with the right training
Access all the expert instruction and hands-on labs you need to get Microsoft Azure Certified.
See all courses
Benefits of Azure cloud certification
Today, business happens on the cloud. Companies of every size need people who have the skills to design and deploy IT projects. However, nearly 40% of companies aren't confident they have the competency to migrate to the cloud (IDC).

Because Microsoft Azure is the second most popular cloud platform with 21% market share, people who are Microsoft Azure certified are in high demand by companies making the leap to cloud. A certification greatly improves your earning potential and makes you stand out next to peers.
In fact, people who have the most popular Azure cloud certifications – Microsoft Azure Certified Solutions Associate (MCSA), Cloud Platform Administrator and Microsoft Azure Certified Developer – are more likely to earn 5% to 20% more than people without them.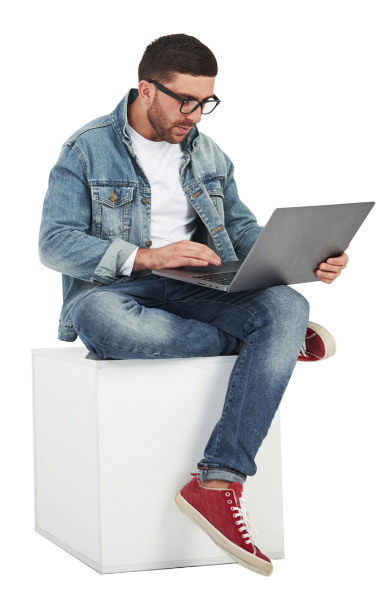 Learn Microsoft Azure with Cloud Institute
We know learning new skills as an adult can be intimidating. With over 35 years of experience in IT training, we've designed and delivered learning experiences that propel individuals and teams to become project-ready—and enjoy the journey along the way.
With Cloud Institute, you receive:

The most up-to-date curriculum
New courses and products aligned to emerging trends are continuously developed so you can stay ahead of the curve.

Instruction delivered how you need it
Choose from self-paced online learning or live, virtual instructor-led training in public or private settings.

Hands-on virtual challenge labs
Retain and apply new skills on the job with training in real world scenarios in risk-free environments.

Free content to keep learning
Your training is our biggest concern. So we continually curate free training content to support your learning beyond the classroom.
Frequently Asked Questions
Microsoft Azure certifications are globally recognized endorsements that you have mastered certain cloud skills. A certification establishes professional credibility and gives you a big advantage over your peers.
There are four types of certifications:
Fundamentals level — which proves you understand the basics of Microsoft Azure cloud and its core services.
Associate level — which proves you are proficient in the basics of Azure cloud storage, compute, networking and security, and can use them to create simple cloud infrastructures.
Expert level — which proves you have advanced knowledge in designing Azure cloud and hybrid solutions.
Specialty level — which proves you have achieved competency of a specialized skill set, for example using Azure to manage SAP workloads.
How much Azure training will cost you depends on the path you choose.
You can lean on mentors, online communities and free training materials provided by Microsoft and on the internet to train yourself—which costs nothing. You'll only pay for the exam.
To increase the chance of passing an exam the first time, many people turn to instructor-led programs that specialize in Azure certification training.
Some programs offer training for a one-time cost ranging from $299 to several thousand dollars.
Other programs are subscription-based and cost anywhere from $19 to $99 per month, or $249 to over $1,500 per year. Subscriptions typically include access to training for additional certifications and may offer perks like hands-on labs, coaching and exam vouchers.
If you want to expand your income potential and advance your IT career, then yes!
The need for talent who can work with cloud infrastructures is increasing. IT hiring managers give preference (and higher pay) to people with certifications—including any level of Microsoft Azure certifications.
So, become Azure certified is a great way for cloud pros to advance their career and increase salary. In fact, ZipRecruiter reports the average salary of an Azure architect is $152,879 per year!
Earning a Microsoft Azure certification is a straightforward process:
- Prepare for the exam. You can learn on your own or enroll in a Microsoft Azure certification training program. Whichever path you choose, hands-on experience is key to learning new technologies, so you'll need to practice relevant scenarios in real-world environments and take practice exams.
- Sign up for the exam. Azure certification exams are delivered in person and online by Pearson VUE and Certiport. You can search for upcoming dates and sign up here.
- Take the exam. Tests are timed and proctored, consisting of 40-60 questions in various formats—multiple choice, short answers, labs and more. Exam duration ranges from 45-minutes for Fundamentals exams to 120-minutes for expert and role-based exams that contain labs.
- Renew certification annually. To maintain your Microsoft Azure Certified status, you'll need to renew your certification every year. Renewal is free and does not require taking an exam. Just be sure to renew before your certification expires.
AZ-900 Microsoft Azure Fundamentals is the first step on the Azure certification path. It covers all the things you need to know to get started with Azure, including what it is, how it works, why to use it and more.
Microsoft Azure Fundamentals is even recommended for non-tech individuals who need only a basic understanding of cloud services.
The exam tests:
Your knowledge of Azure architecture;
Your ability to develop and deploy an Azure cloud service
Manage and provision Azure virtual machines and storage
Achieving a Microsoft Azure certification is no easy task. This is why many companies spend a lot of time and resources to prepare teams for these exams.
One reason it may be difficult to pass Microsoft's Azure exams is the sheer amount of knowledge tested. Each certification requires a different skill set. You can only learn so much from books, videos and online resources.
But don't be deterred! With a quality instructor-led training program and hands-on practice, you can learn what's needed to confidently pass Azure certification exams